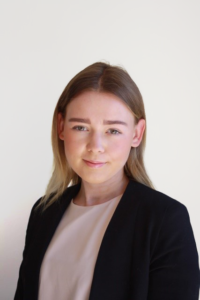 Ella is an Account Executive on Brevia Consulting's fast track management programme.  Prior to joining Brevia, Ella studied Politics and Social Policy at the University of Bristol. Where possible Ella specialised her degree towards climate policy and current UK party politics.  She was also an active member of the Bristol Politics Association and Bristol University Conservative Association. 
Before going to University, Ella spent a year working as a Junior Secretary in the office of Rt Hon David Gauke MP, where she drafted responses to a wide range of policy and individual casework correspondence from constituents. From day to day Ella researched both local and national issues to respond to constituent needs.
Whilst at University, Ella worked for Jamie Wallis MP, where she compiled briefing packs, assisted in writing external communications for Jamie, including speeches and researched relevant subjects as directed. Ella was responsible for interview preparation covering a wide range of issues from the Internal Market Bill to COVID-19 recovery. Ella also assisted Jamie with his select committee work, including drafting report amendments. 
At Brevia we pride ourselves on our cross-party team with specialist knowledge in a wide range of sectors. If you are looking for a new challenge in your career then get in touch. We are always on the lookout for talented individuals.