This week, the Government stepped in to save the regional airline, Flybe, from collapse. Having won a majority by gaining votes in nearly every region of the UK, the intervention symbolises Boris Johnson's stated desire to 'level up' the country.[1] The decision indicates the Government's willingness to adopt a more interventionist approach in pursuit of this aim and tells organisations there will be opportunities to push for support.
A 'BREXITY-HEZZA' FELT COMPELLED TO ACT
Free-market Tories are not usually in the habit of supporting ailing businsess. In September last year, the Government saw another airline, Thomas Cook, fold without offering assistance.[2] There were structural differences between the two businesses, of course. However, it is clear that a Prime Minister who has likened his template to that of Michael Heseltine's,[3] a champion of regional regeneration, did not want to be seen to ignore a service that connects places such as Belfast, Newcastle, Newquay, Aberdeen, Exeter, Cardiff and Birmingham.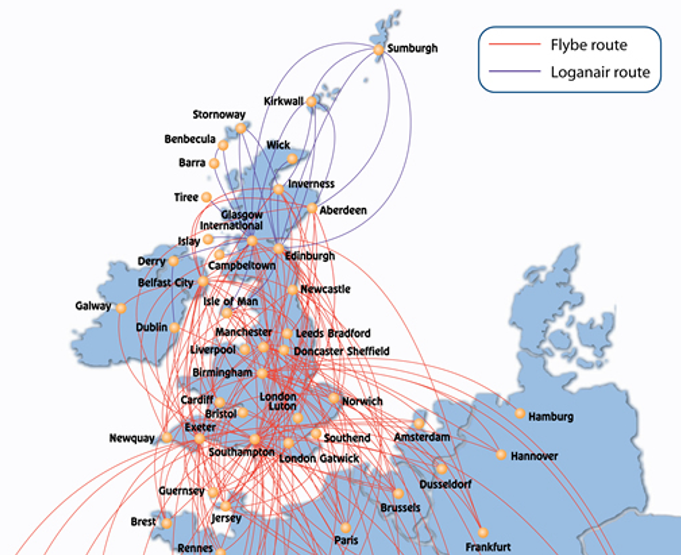 Source: Airline Route Maps[4]
A PRIORITY OF NARRATIVES WILL NOT PLEASE EVERYONE
A key element of the rescue package has seen the Government defer some of Flybe's Air Passenger Duty (APD) which has angered competitors.[5] The Secretary of State for Transport, Grant Shapps MP, has also announced that the Government will conduct a review of APD.[6] This is a move which has drawn strong criticism from environmental groups because flights need to be discouraged if the UK is to meet its net-zero carbon target.[7]
GET WITH THE PROGRAMME TO GET AHEAD
Ultimately, the Government's resolve to appear committed to all areas of the UK trumped other concerns. As a Conservative MP is reported to have said: 'This Government just works out what people care about and does it.'[8] With the Treasury poised to announce £100 billion of capital spending in the Budget in March[9], organisations need to present themselves as enablers of the Government's core ambitions to successfully lobby for support.
BREVIA CONSULTING PROVIDES STRAIGHTFORWARD POLITICAL ADVICE AND SUPPORT TO BUSINESSES AND CHARITIES
Discover how Brevia can help you and your organisation by contacting the Brevia Transport Team on 020 7091 1650 or contact@brevia.co.uk

---
[1] Boris Johnson MP, 13 December 2019, link
[2] BBC News, 23 September 2019, link
[3] Prospect, 7 January 2020, link
[5] City AM, 15 January 2020, link
[6] Department for Transport and The Rt Hon Grant Shapps MP, 15 January 2020, link
[7] Committee on Climate Change, 24 September 2019, link
[8] Huffington Post, 15 January 2020, link
[9] Conservative Party, Conservative and Unionist Party Manifesto 2019, link